Where did you hear about dance anywhere®?
From a friend, Betherann at To The Fullest (http://www.kitchencourage.com)
What made you want to join in?
I love to dance, especially now that I've been hoopdancing for a little over a year. I know how much joy and freedom dancing can bring. I also know that for many people – including me – the idea of dancing in public is a frightening thing. What if someone laughs, heckles or harasses me? These are very real fears for most people, and I refuse to be ruled by fear. So this project seemed like an ideal opportunity to confront that fear and do a little something to overcome it.
Where did you dance? And why did you choose that spot?
I danced at the beach near my home. It's a beautiful place to move around, and there was the potential that other beachgoers might join me. No one did, but maybe next year…
Did you have a concept for your dance?
Not really. I just knew I wanted to go play with my hoops and dance to some good music. I took extra hoops just in case anyone else wanted to dance with me, picked out a flat place near the water's edge where the sand was wet and firm, and cut loose.
What does the idea of dance anywhere® mean to you?
It means being free to express myself in movement whenever and wherever the mood arises. Music is all around us, and I love feeling at ease moving to it regardless of who's around and what's happening.
Is dance a regular part of your life?
Yes, I hoop dance several times a week, and I've been known to dance in church on occasion as well. This Sunday, I'll be combining the two for an Easter service special.
How many times have you danced for dance anywhere®?
This was my first time, and if possible, I'll be doing it again this year.
Did anything spontaneous happen during your performance?
Other than my freestyle dancing, no. I did have a brief conversation with a pair of beachwalkers, but it was about the hooping, not the dancing.
Did anyone assist you with the video?
No; it was a one-take shot with my camera attached to a tripod and set on a towel in the sand.
How do you describe your occupation or your passion?
Occupation: office manager. Passions: Hoopdancing, of course, and I'm writing my third novel and editing the first two.
Will you be dancing for dance anywhere® 2012?
I plan to, yes. I'm looking forward to it.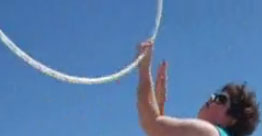 Traci Bonney