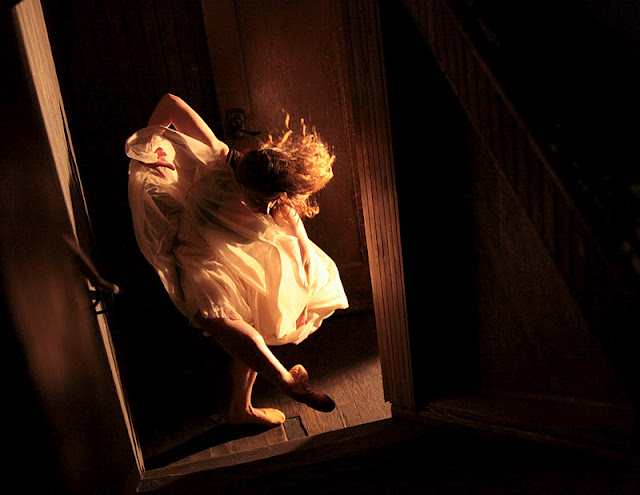 Photo: Afshin Odabaee
Breton Tyner-Bryan is a graduate of the University of Utah with a BFA in Ballet Performance. She received her training at the School of the Hartford Ballet and Ballet West Academy. Breton has performed with Hartford Ballet, Utah Ballet, Kunst-Stoff, Project Agora, Labayen Dance, DO NOT DANCE UK, and Deborah Slater Dance Theater. Additionally she has performed works by Marius Petipa, Kirk Peterson, Alonzo King, Robert Moses, Charles Moulton, Donald Byrd, and Cathleen McCarthy. She has had the pleasure of working with the Bill T. Jones/Arnie Zane Dance Company. In January 2010 Breton was invited to Norsborg, Sweden Cullberg Ballet. She joined PUSH Dance Company in January 2011. She has created a piece entitled "Break the Mold," a phrase of which will be performed on March 30 as part of the 2012 dance anywhere®. "Break the Mold" was commissioned by Alonzo King LINES Dance Center and Jewels in the Square in October 2011.
How did you get involved with dance anywhere?
I actually met Beth Fein working as a photographer for Kara Davis' company project agora back in 2008 when they performed at SFMOMA as a part of dance anywhere. I performed with Project Agora from 2006-2010 as well as worked closely with Kara as a photographer. Since 2008 I have worked with Beth photographing different artists for this event. I recently formed my own company in 2011, and this will be the first year I am joining the event as a performer.
What made you want to join in?
I believe in public art. Theaters are one of the most sacred places to me on the planet, but not everyone has access to the events there or can afford the price of a ticket. If art becomes only for other "artmakers" something is lost. dance anywhere is an opportunity for me to share what I do, what I believe in with the world, sans ego. It encompasses the basic generosity and shared experience that is truly Dance.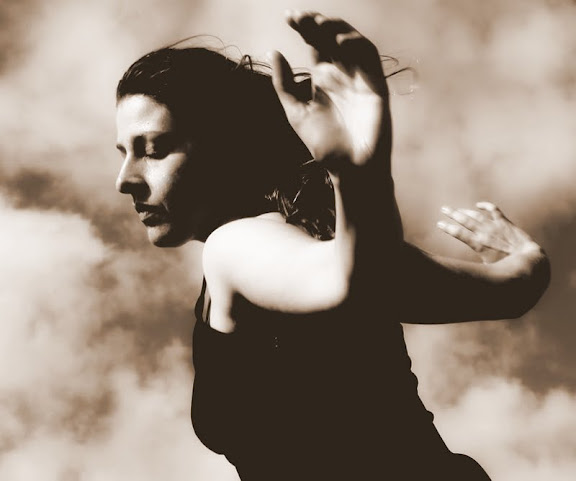 Photo: Afshin Odabaee
Do you have a concept for your dance?
I began working on "Break the Mold" in September 2011. At the time I didn't realize it, but I think it was something I had to make, had to do to heal myself. I put together a group of dancers I really liked as people and respected for their individuality, and off we went. It just gelled. The piece just poured out of me. In retrospect I think "Break the Mold" is really about resurrection, the rebuilding of strength however slow and infinitesimally small.
You mentioned that "Breaking the Mold" helped you to heal. Can you elaborate on this? How is choreography a part of your healing process?
I don't think choreography alone is specific to my personal healing process. Making art, putting beauty into the world gets me out of bed in the morning. Whether I'm painting, drawing, sewing, cooking, I'm telling a story. There's great power in sharing. It allows for the negative charge associated with something to be transformed, purged, dissipated. Making beauty out of the mundane. It's like sharing a dark secret, that no longer has any gravity once it's spoken.

Story telling has always been an integral part of my choreographic process. For the past five years I've worked with dance theater companies as a performer. My fellow colleagues and I were expected to create our own movement, often derivative from poetry or text. In the early days this was tremendously challenging for me, as I prefer to work with sound. Our directors continually challenged us on the content and meaning of each movement. We had to qualify every gesture, shoulder, eyeball, with and emotional charge. We became actors. I am so grateful for that time "in the lab", because it turned us all into choreographers. I became comfortable generating movement from any minute seed of inspiration. It taught me to trust my choreographic voice.

Currently sound is an integral part of my process. I hear music and my body can sing the sentiment of the sound. We work a lot with "emotional mapping", to create a strong narrative. The meaning behind a movement is just as important to me as the line.
What is your background and what kind of dance training do you have?
I'm a classically trained dancer who likes to MOVE. I received my training at the School of the Hartford Ballet Pre-Professional Program and hold a BFA in Ballet Performance from the University of Utah. I've been very blessed to work with ballet companies, dance theater companies, and contemporary choreographers. I really like to work along side artists that have a completely different background than mine. I've been a photographer all my life, and used to make a living sewing and working as a chef. I currently teach for Alonzo King LINES Ballet, and choreograph for acrobats, athletes, and commercial ventures.
Where does your inspiration come from?
I like to paint with movement. I'm a very visual person.
You mentioned that you recently formed your own company. Can you tell me a little about it?
We are currently listed as Breton Tyner-Bryan and Dancers. We are gearing up for performances in March and April. We will be performing March 23rd as a part of PUSH Dance Company's home season Benefit, March 30th for dance anywhere, and April 21-22nd as a part of RAW Dance's "Concept Series". We are also working on a premiere for WestWave in July, with hopes that the festival continues into its 21st season, despite setbacks in funding.
How do you feel public performance impacts the community?
I feel public performance is an extension of the generosity and inherent communication that is art.
What does dance mean to you?
Dance is my language and my science. It's how I contemplate the world.
See an excerpt from "Break the Mold," Jewels in the Square, October 2011:
See Breton Tyner-Bryan's Performance Reel: