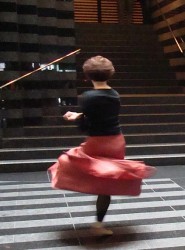 Anne Bluethenthal / photo: Ron Saunders
7

continents,

66

countries, more than


714

cities...
Although dance anywhere® is free for dancers and audience alike (and we want to keep it that way) we do need funds to pay for administrative support that goes towards organizing the project, including: maintaining the website, writing the blog, coordinating volunteers, dancers and venues, spreading the word online and sharing the photographs and video with the community
Your support in any amount is essential for us to continue dance anywhere®.

Thank you to our wonderful hosts who have opened their doors to dance:
n

dance anywhere
®
extends a huge thank you
to our individual donors for
supporting worldwide simultaneous dance.
n
Joan Lazarus
Lois Feinblatt
Elizabeth Farnsworth
Michael DiFilippo
Holly Jordan
Judy Abraham
Monica E Marini Leenson
Ellen M Fein
Trish Goodman
Harriet and Dick Fein
Maryly A Snow
Diana Gargano
Lida Lahidji
Carol and Bob Marsh
Claire Schooley
Susan Chrysler
Mary Keegan
Lisa McDade Barto
Candace Falk
Livia C. Stein
Ann Paquin
Virginia Erck

Robert Kronman
Maureen Alano
Holly Ashby
Mona Mena
Matt Haber
Peggy Murphy
Julia A Zolinsky
Stacy Rodriguez
Alex and Alice Benedict
Sue Grant-Marsh
Susan Wolf
Weidong Yang
Katherine Cullinane
Peggy A Difilippo
Dana Jacklyn A Roy
Lisa Laursen
Carolyn Wolfram
Carol Kueffer-Moore
Tanya Chianese
Natalie Marsh
Wei-Shan Lai
Staci N. Scrogham