Fausto Matias / Shirin Stave-Matias / SORADI DANCE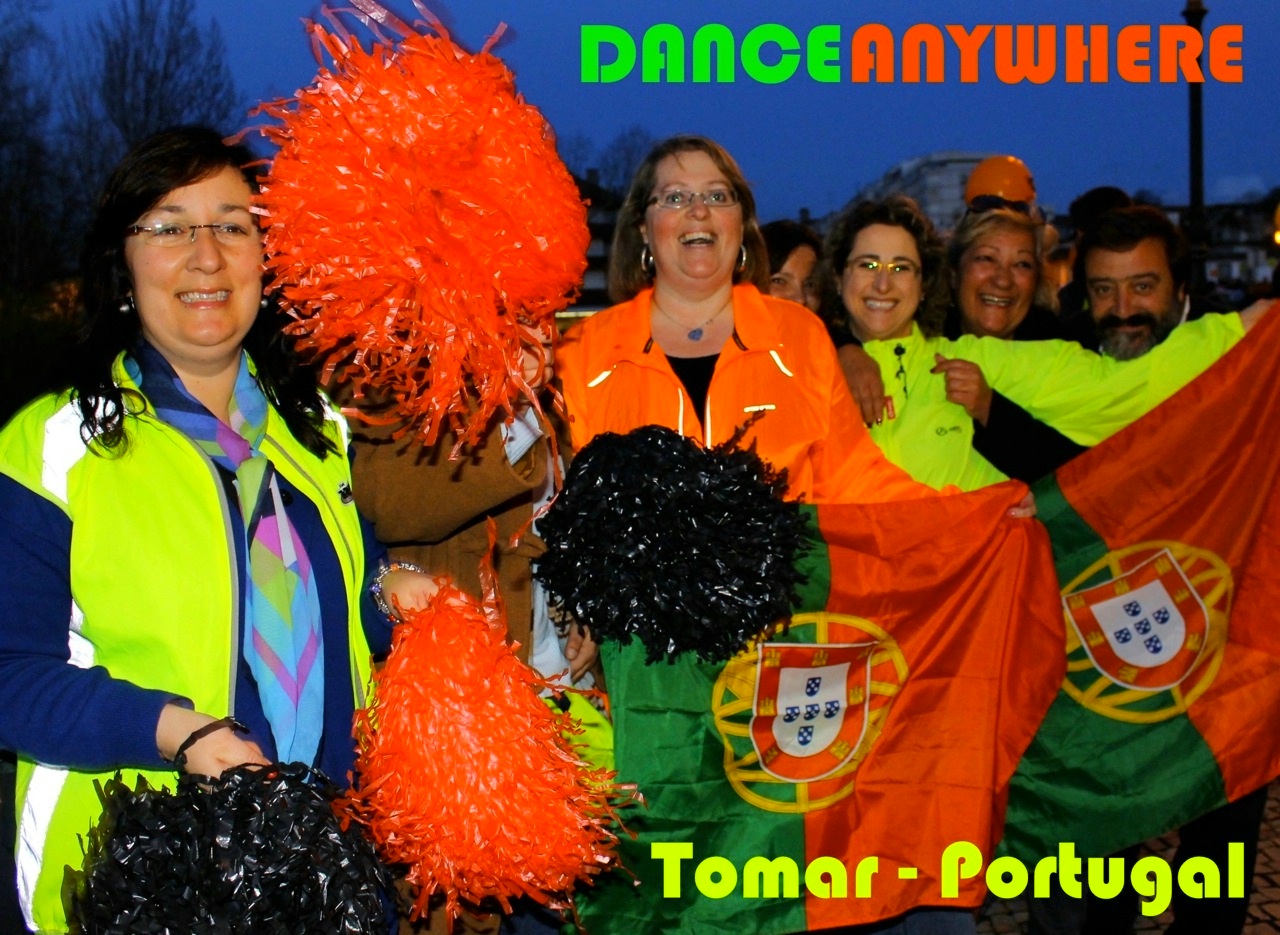 photo by Elsa Ribeiro Goncalves - Jornal O Mirante (Dance Anywhere 2013 in Tomar)
About:
FRIDAY, March 18 at 7pm (Tomar, Portugal time) place: Pavilhao Desportivo da Nabancia home of: the Acrobatic Gymnastics Team 'Ginasio Clube de Tomar' address: Rua Jose Raimundo Ribeiro town: Tomar Zip Code: 2300-505 Tomar Country: Portugal For the fourth consecutive year, the artistic project SORADI DANCE, led by dance artists Fausto Matias and Shirin Stave-Matias, is making an open invitation to their intergenerational community in order to celebrate a global and positive energy, called DANCE ANYWHERE. The objective is to create a mob of hundreds to invade a gymnasium during a practices of an Acrobatic Gymnastics Team from Tomar (winner of Regional, National and European Championships). We will be dancing using two top music songs: " Lets Dance " (freestyle dance), a tribute to David Bowie and " Uptown Funk " by Mark Ronson feat Bruno Mars, (a choreographed dance by Fausto Matias) for a mob of hundreds to follow. Tomar an historic 12th century town located in the central region of Portugal, was one of Umberto Eco favorite cities to visit. Referenced in his book Foucault's Pendulum- " If I could imagine a Templar Castle, so it will be Tomar " - he wrote. Umberto Eco once nicknamed Tomar as " l'ombelico del mondo " (the navel of the world)
2016
Pavilhao da Nabancia
Rua Jose Raimundo Ribeiro Tomar, Portugal 2300-505
2015
a field & a dance space
Tomar 2300-431
Soradi Dance/Fausto Matias & Shirin Stave-Matias said:
'Ficus Carica' is a dance installation by Fausto Matias. This year, on March 27th, Soradi Dance celebrated Dance Anywhere by creating a project using people from our community to portray human fig trees in an open field. Ficus Carica is also dedicated to the commemoration of the International Day of Forests and Trees (March 21st). Through this work our aim is to use art as a medium to promote awareness to the subject of deforestation and the decline of fig trees and production of fig based products in Portugal. On March 27th, 'Dance Anyway!' by Shirin Stave-Matias, integrated some of her World Dance class students in a spontaneous dance experience while simultaneously dancing with others from around the world. We are dancing anyway (!); traveling vicariously by moving through time and space and adopting different identities with dress and masks in order to enhance our dance experience in a celebratory and transformative way. Socially interactive creative play and joyful mome
2014
Between St. John the Baptist Church & City Hall
Republic Plaza Tomar
Danced with our community in Tomar, Portugal
Soradi Dance/Fausto Matias & Shirin Stave-Matias said:
March 28, 2014 - About 700 people attended our intergenerational community event, in historic Tomar, Portugal. Created & produced by Soradi Dance (multidisciplinary artists Fausto Matias & Shirin Stave-Matias), the event took place in the town square, between the 15th c. manueline gothic style church of St. John the Baptist and a 16th c. building which is the current City Hall. Portuguese rock music was played as everyone shared their dance with the world, as well as commemorating Dance Anywhere's 10th anniversary.
2013
...on an ancient bridge over the Nabao river, in the historical city of Tomar, in central Portugal
Tomar
Danced with over 1,000 people who joined us on friday - 7pm - March 22, 2013. Our event took place on an ancient bridge over the Nabão river in the historic 12th century town of Tomar, located in the central region of Portugal...
Soradi Dance/Fausto Matias & Shirin Stave-Matias said:
For more than two decades, we've been creating, presenting & producing dances in site-specific environments, primarily in the USA, Canada & Europe. In the past 12 years we've been located in Portugal, where we initially focused on bringing the fringe Festival of International Contemporary Dance to 20 cities, throughout Portugal. On March 22 at 7pm (19h) we will be dancing on an ancient roman bridge over the Nabao river in the heart of the historic city of Tomar, Portugal. We will be very happy to share our dance with Dance Anywhere and unite with others around the globe in one universal dance.
SORADI DANCE/Fausto Matias & Shirin Stave-Matias said:
We love dance and we aim to share that love of dance with others. For over 10 years our work was presented at: Dancing in The Streets, The Kitchen, DTW and Movement Research, among others. Since 1999 we have focused on developing dance in Portugal, where we first began creating the fringe International Festival of Contemporary Dance. For 6 years the festival presented choreographed and improvisational works, predominantly in outdoor/site-specific venues that highlighted the rich Portuguese architectural heritage. Since the global crisis we are focused on surviving and making dance thrive. We see the decline of a once beautiful & productive city, and are aware that many people are confronted with serious problems of unemployment and economic hardship. We do not have the solution to the enormity of this issue, but those of us who dance, know the power it has to heal and revitalize us like nothing else. It can be a simple dance, but it can be a prayer, too.