Deborah Slater Dance Theater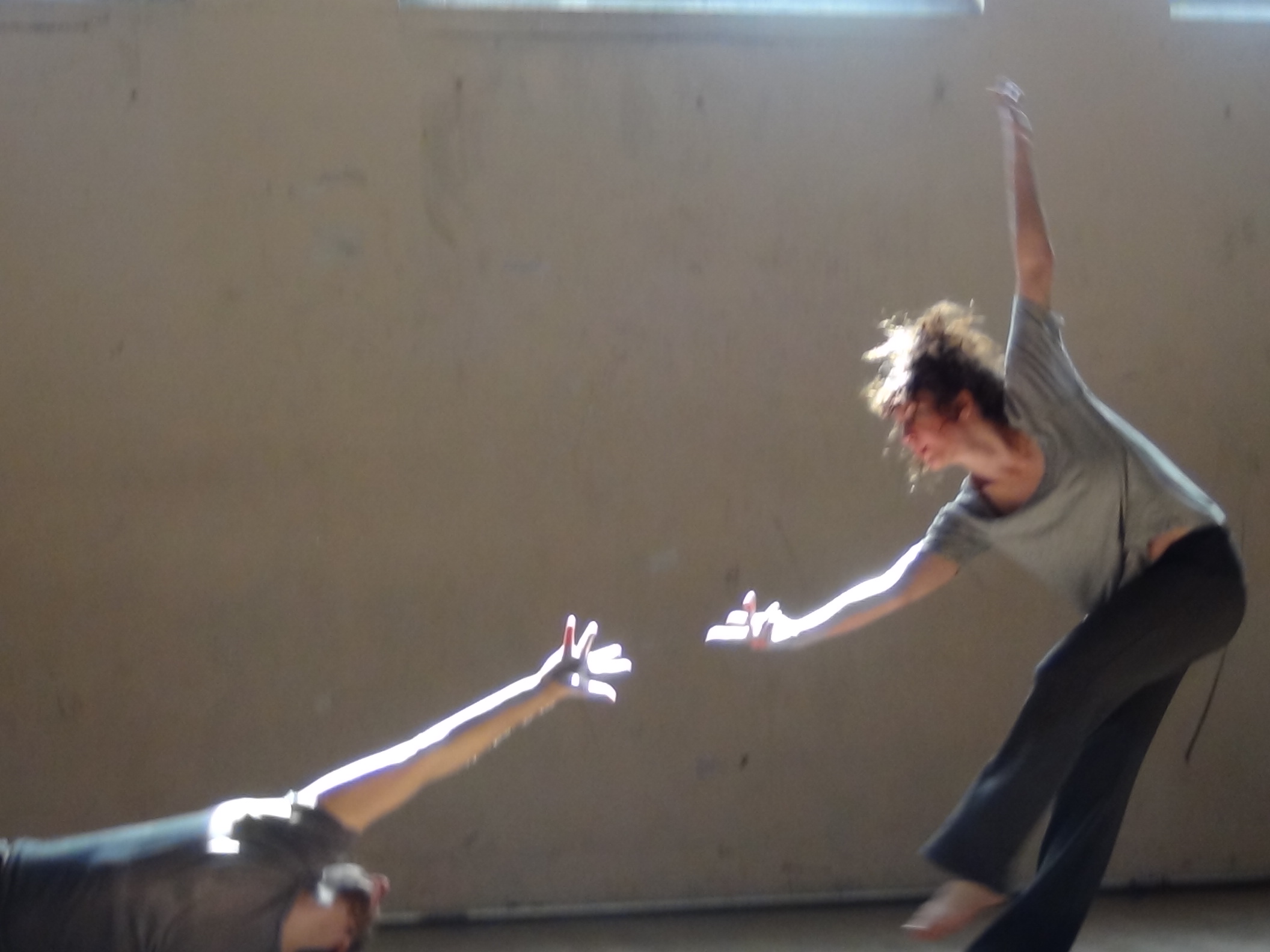 photo by Anna Greenberg and Derek Harris, photo by Deborah Slater
About:
A multi-media dance company, Deborah Slater Dance Theater does visually gorgeous, acrobatic, talking dance. DSDT is dedicated to the creation of works that explore social issues using humor, original movement, text and/or music.
2016
Studio 210
3435 Cesar Chavez San Francisco CA 94110
Deborah Slater said:
One of the most interesting moments when thinking about 'dancing anywhere' was thinking about dancing in my own studio, where we have been for 35 years (!). We were just beginning a new piece and it had that sort of confusion, excitement, possibility and lack of a map that usually accompanies first discussions, tasks and meetings. A new group of folks gathered and almost instantly fell into making a work about love, family, the passage of time and changing perspectives. Opening the door of the studio made it available to the kids, tech folks and john q. publics with whom we share the building. We danced for them, we danced for ourselves and in June, we will dance for you as part of the Fury Festival 2016 at Noh Theater. Wednesday, June 15, 2016 8:30 PM Friday, June 17, 2016 7:30 PM Sunday, June 19, 2016 8:00 PM www.foolsfury.org/fury/furyfactory/ and www.deborahslater.org
2015
Yerba Buena Gardens
750 Howard Street San Francisco CA 94103
2014
SFJAZZ Center (Joe Henderson Lab)
201 Franklin Street San Francisco CA 94102
Danced with Melissa Caywood, Anna Greenberg, Derek Harris, Andrew Merrell. Live and original music by Nils Bultman on the viola.
2013
San Francisco Public Library
100 Larkin Street San Francisco CA 94102-4733
Danced with Deborah Slater Dance Theater featuring Elizebeth Randall & Derek Harris with live singing by Rabbi Susan Leider
Will you DANCE ANYWHERE? said:
Last year DSDT was commissioned to perform a piece at SF MOMA, in response to composer Bill Fontana's sound installation SONIC SHADOWS. That piece was so wonderful in the making (being in the Museum when it was closed), the doing (hundreds of people of all ages lying on the floor of the Museum on a big red carpet to watch the performers 5 stories up), and in the aftermath (fabulous emails and letters and pictures sent to us by those who watched it live and live-streamed), that I vowed to do another site specific piece if the opportunity came along. Then Beth Fein wrote and invited me to be part of DANCE ANYWHERE and she said the space she had was at the public library. So we met at the library, I took one look at the staircase and said, 'Here we go again!!!!!' I would like to thank Beth Fein from Dance Anywhere and Michelle Jeffers, PR person for the Library and our generous liaison, for making this a wonderful experience and helping us rehearse in the actual space. There is not