Impromptu No Tutu Elder Ensemble with Greacian Goeke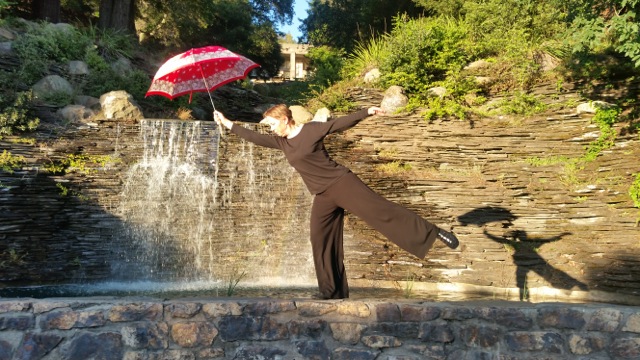 photo by My Trung Goeke
2017 location
Albany Senior Center
846 Masonic Avenue
Albany, CA 94706
About:
The Impromptu No Tutu Ensemble are dancers age 50-90+ celebrating our lives through movement, music and percussion. Our mission is to open the horizons of dance for all ages, inspiring a new view of aging as a crescendo of creativity and community. Artistic Director Greacian Goeke is an Orff Schulwerk movement and music teaching artist who nurtures creative expression in preschoolers, elders and all ages in between. She also dances with the USF intergenerational company Dance Generators, and teaches T'ai Chi Ch'uan in the East Bay.
https://www.facebook.com/GreacianGoekeImpromptuNoTutu/ https://www.youtube.com/dashboard?o=U
2017
Albany Senior Center
846 Masonic Avenue Albany CA 94706
Dancing with Impromptu No Tutu, the resident creative dance company of Albany Senior Center, and staff and other members of the Senior Center.
Greacian Goeke said:
This year we danced in honor of Louise and Brian Donleavy, a dancing couple who continually inspire us. Brian photographed No Tutu's first Dance Anywhere on the median near Berkeley Bowl in 2013. Sadly Brian died unexpectedly this year on March 24. In his memory I'm including some of his photos at the end of this current year. Louise is dancing on without her beloved partner as a vital member of the No Tutus. Two members who could not join us in Albany sent photos of their simultaneous dances in San Francisco and Vallejo and I am posting their pictures here as well. Thank you, Nina and Beth! We missed you.
2016
Mountain View Cemetery meet at 1pm at the circular fountain just inside the gates to the right; bring an umbrella!
5000 Piedmont Avenue Oakland CA 94611
Danced with elder dancers of Impromptu No Tutu, members of the public and cemetery workers. Our dance this year is part of WALKING IN WITNESS, a year-long series of community events for the cemetery, co-directed by Greacian Goeke and Kaethe Weingarten, partially supported by a grant from Dancers' Group, SF
2015
Grass median strip in center of Adeline Street at Oregon Street, near Berkeley Bowl East
Across from 2020 Oregon Street Berkeley CA 94703
Danced with Impromptu No Tutu and members of the public. Bring a colorful umbrella if you have one; there will be a few extras on site. Meet on the grass at Adeline and Oregon by 11:45 am; dance begins at noon.
Greacian Goeke said:
Dancers age 4 through 87 cavorted on the grass and delighted passing cars. This is the first year we had signage, thanks to Anne Olund. Many photos are also by Anne and by my 5-star teaching assistant Vita. Hope to add a video by Anne if we can solve some platform issues....
2014
Center for Elders Independence
1955 San Pablo Avenue Oakland CA 94612
Danced with Impromptu No Tutu elder movement ensemble and friends together with clients of Center for Elders Independence (CEI). NOTE: Because of CEI's schedule we are meeting at 12:30 pm at San Pablo Avenue and Thomas L Berkeley Way (across the street from CEI) and dancing over to the CEI courtyard garden.
Greacian Goeke said:
Dancing with the community at CEI was the best! We were very touched to see that the art class created mini-umbrellas for table decorations in anticipation of our visit. Thank you to everyone who participated, especially those who danced down in the valley and shared a motion!
2013
1 pm Meet at sidewalk in front of Berkeley Musical Instrument Exchange. Dancing 1:15 - 2 pm on nearby median strip of Adeline Street
2923 Adeline Street Berkeley CA
Danced with Impromptu No Tutu elder movement ensemble led by Artistic Director Greacian Goeke. We will improvise an umbrella dance accompanied by gospel singing by the SNAP Choir of Richmond led by Laura Sherman and LaJuana Clark.
Jeannie McKenzie said:
Thanks for making such a wonderful event happen, Greacian! I am so grateful that I got to be a part of it! Peace, Jeannie
BB Borowitz said:
Thank you, Greacian, for our umbrella dance, what fun! Loved the choreo, definitely developable if ever you want. . . Glad I got to spend another Dance Anywhere day w/ you!
Nina Serrano said:
This was a great experience moving in concert with others and knowing there were people worldwide dancing with us.
Greacian Goeke said:
We realized that this is just the beginning for No Tutu of dancing with umbrellas and collaborating with the SNAP Choir. Watch for upcoming events!
2012
Stagebridge Senior Theatre Company
2501 Harrison Street Oakland CA 94602
Danced with members of the Rhythm and Moves class, led by instructor Greacian Goeke
Greacian Goeke said:
STAGEBRIDGE ELDERS CELEBRATE IN THEIR NEIGHBORHOOD Fifteen elder dancers--regal, colorful, sassy and strong--expressed their passion for movement by performing dramatic poses and lyrical gestures with flowing scarves at the corner of Harrison and 27th in Oakland for Dance Anywhere Day 2012. This was the first public outdoor dance performance by members of Stagebridge Senior Theatre Company which is headquartered at this location in the First Congregational Church. The dancers were applauded by passengers in cars and buses at the traffic light while many cell phone cameras clicked to capture the spectacle. The all-women group included members of Stagebridge's Rhythm and Moves class taught by Greacian Goeke together with community supporters. Later in April 2012 the Rhythm and Moves dancers, joined by members of Goeke's movement ensemble from the Albany (CA) Senior Center, will be seen sharing their working process as part of the 20/20 Open Studio at Luna Dance Institute, 12:30-1pm on