Jenn Hicks Nia Technique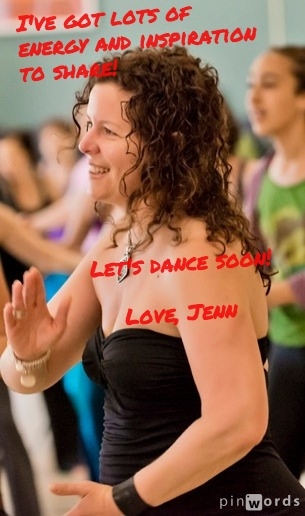 photo by Mopo Arts
About:
I am a passionate and joy-filled Nia Technique teacher in Toronto, Canada. I *LOVE* to dance through my life with form and freedom! Let's connect! http://www.facebook.com/NiaDanceFitnesswithJennHicks http://www.twitter.com/_jennhicks http://instagram.com/jenniferhicks
2016
Bus stop
Sherbourne St Toronto On M4x 1g6
Danced with Me, myself and my shadow! LInk here: http://jennhicks.ca/2016/03/dance-anywhere-bus-stop-dancing/
2015
My office
5678 Dance Anywhere Street Toronto Ontario M5W 3P6
Danced with Me, myself & I
Jennifer said:
said:
Here, at my desk, in front of my closest colleague (my MacBook Pro), I took a dance break. I love being in my body and mooooving!
2014
The Joy of Dance
95 Danforth Rd Toronto On M4K 1N2
Teeny tiny toe dance said:
I took part in this wonderful event in my basement. Barefoot. With a teensy tiny foot dance. While waiting for the washing machine to stop. It was a break from report writing, invoicing, income tax prepping, household chore-ing. Cause I *LOVE* to dance, any and every which way possible! - See more at: http://jennhicks.ca/2014/03/dance