http://www.berkeleyside.com/BerkeleysideCalendar/events/index.php?com=detail&eID=2748
dance anywhere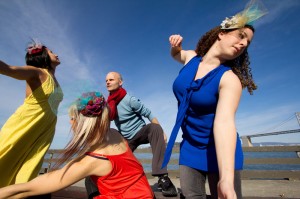 Since 2005, on one day, simultaneously around the world, dancers, students, cab drivers, artists, business folk and dreamers, young and old alike put aside their daily grind and unleash their moving creativity in parks, sidewalks, office buildings, schools, museums, subways, anywhere their dancing bodies will fit. Now in it's eighth year, public art performance piece dance anywhere® will take place on Friday, March 30, 2012 at Noon pacific standard time (PST) 3pm EDT (New York, etc) 9pm in Paris, Rome, etc.
Artist and dance anywhere® creator Beth Fein explains, "When I first thought of dance anywhere® it was just an idea. Imagine if we all took a moment to dance. It changes your day, your mood… when you stop to dance, you find inspiration and creativity you may have forgotten. With tough economic times, and so much divisive discourse, here is common ground we can all enter, even if just for a moment – anyone can dance anywhere."
At noon (PST) on March 30th, thousands of people in countries (including Estonia, Argentina, Italy, Turkey, Ireland) across the globe, will pause to express themselves through dance. Join us for another year of transforming public spaces and everyday relations into vehicles of inspiration. Anyone is encouraged to participate, and the project involves people of all ages, abilities, nationalities, and backgrounds. It is free for dancers and audience alike. Participants have been professional dancers and artists, plumbers, doctors, soccer players, teachers and politicians. Some dances are choreographed, some are improvised, and some stretch the definition of what dance is
Friday, 30 March, 2012
Starts at 12:00 PM
View the original article here.