Celebrate 'Dance Anywhere Day' with Elder Flash Mob
by Ashley West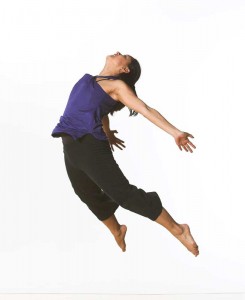 This Friday, March 30 at noon, celebrate a global improvisational experience that places dance at the forefront of the world's consciousness.
Rejoice in the power of dance to link people in the sheer joy of shared movement. Check out the international overview and map for Dance Anywhere Day.
Come one, come all to this inclusive event at Stagebridge Senior Theater Company in Oakland. You need no dance experience. Greacian Goeke will direct a semi-improvisational routine created by her Rhythm and Moves class. Goeke has left open the possibility that planned movement may turn into spontaneous frolicking.
Dance Anywhere Day and Stagebridge are a perfect fit, as its seniors fearlessly claim their place daily in a youth-centric culture.
If the movement routine outlined here looks enticing, you may email Goeke for a complete movement plan.
The Dance
Participants will congregate at the First Congregational Church Atrium at noon sharp. Please show up rain or shine, as all will dance indoors if weather is inclement. Or, weather permitting, we will dance for a minimum of 30 minutes outdoors.
To prepare, dress in warm layers. Wear gloves and dress in bright, festive colors. Bring umbrellas, as they will be incorporated into the event.
Routine Overview
Goeke will call out the routine, so keep your eye on her.
Dancers will position themselves along an outdoor railing in front of the church, facing a partner. Make big, obvious movements that will make an impact from a distance.
Using the railing, do long, exaggerated dance stretches. At some point, you will pull colorful scarves from your sleeves. The whole crowd will perform the wave.
At a given signal, dancers who wish to perform solos will move away from the railing, shaping their bodies dramatically. The remainder of the group will react enthusiastically to the solos.
Participants should meet at the First Congregational Church at 2501 Harrison Street (across from Whole Foods). There is no charge for the event.
Stagebridge offers "affordable excellence" in the form of classes, performances and incomparable memories. Check them out today—Spring classes begin on Monday, April 2.
Continue reading on Examiner.com Celebrate 'Dance Anywhere Day' with Elder Flash Mob – Oakland Theater | Examiner.com