Schools around the world celebrated dance anywhere® 2014 with projects that inspired youth of all ages to join in a moment of global simultaneous dance. Here are some stories from a few of these cool schools.
The Play Yard
Berkeley, CA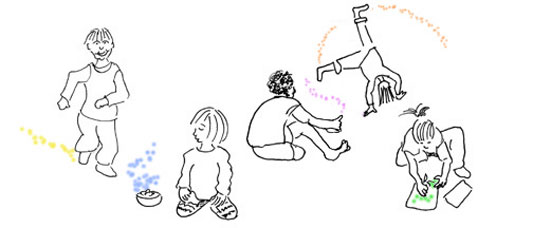 "I have a small family childcare program (5-6 children) in Berkeley. The children, parents and I have been participating in dance anywhere® for the past 3 years. I really appreciate the concepts in dance anywhere® and it is what I use to expand the possibilities in dance with my small group of children. For example, I see dance anywhere® as our opportunity to do public space dance performance – once at 'Strawberry Creek Park in Berkeley and last year at the open space surrounding Justin Herman Plaza.
Although we rehearsed it here at The Play Yard on Thursday, we took it to the streets on dance anywhere® Friday. Our figure was in a wagon with a sign attached to its back that the children lettered: 'dance anywhere 12:00'. As the 3 children pulled/pushed the wagon, they played rhythm instruments calling out; "dance anywhere 12:00." We walked down Blake St./ crossed San Pablo and worked our way to the "Saw Tooth Building" on 8th st., There we did a very short symbolic dance at 12:00."
~Denise Hingle
FasTracKids®
Irapuato, Guanajuato, Mexico
FasTracKids encouraged their students, aged 6 months to eight years old to dress up and celebrate. One particularly enthusiastic little girl stole the show!
Glen Urquhart School
Beverly, MA
Children of all ages dressed in yellow and took to the blacktop to perform a school-wide choreographed dance to "Happy" by Pharell Williams. They certainly look happy!

New Highland Academy
Oakland, CA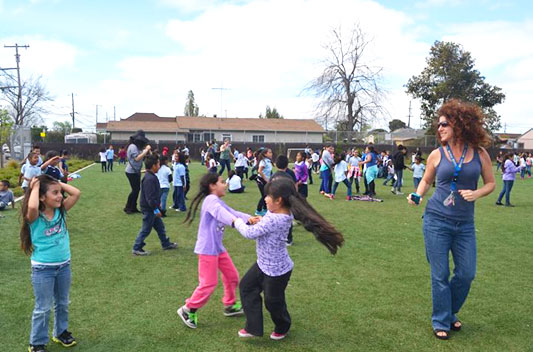 "New Highland Academy stopped everything to dance together for dance anywhere® day! When the music stopped, all the students begged for 1 more song – What joy in movement!" ~Luna Dance Institute
Charlotte A Dunning Elementary School
Framingham, MA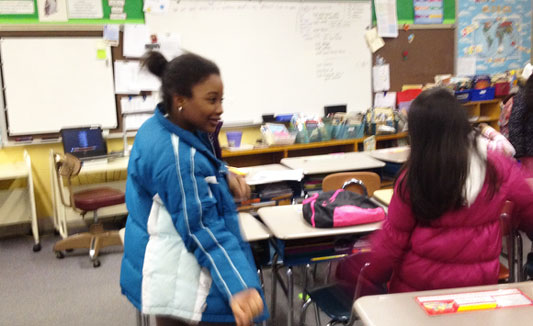 "We kept it a surprise from the students until it was time to dance. At 2:55 the principal came over the intercom and announced to the whole school that we would be participating in a special project. Dismissal was delayed for 5 minutes and music was piped into every classroom as we all rocked out." ~ Ms. Sarafconn
Park Day School
Oakland, CA
Students at Park Day School counted down to to 12:00 noon, when they all began dancing on the field behind their school.
These cool schools also celebrated dance anywhere® 2014:
7th Street Elementary, San Pedro, CA: website dance anywhere page
Beach School, Piedmont, CA: website dance anywhere page
El Cerrito High School, El Cerrito, CA: website dance anywhere page
Piedmont Middle School, Piedmont, CA; website dance anywhere page
Redwood Heights Elementary School, Oakland, CA: website dance anywhere page
Kansas City Public Schools, Kansas City, MO: website dance anywhere page
Superstition Mountain Elementary, Apache Junction, AZ: website dance anywhere page
Trivium Charter School, Arroyo Grande, CA: website dance anywhere page
Waring School, Beverly, MA: website dance anywhere page