Dancers: Your Chance to Join a Worldwide Flash Mob Has Arrived
EXPLORE: PERFORMANCE
When the clock strikes noon today, stop what you're doing and bust a move. You won't be alone; dance lovers will be participating in dance anywhere, a "simultaneous worldwide public art performance" in which dancers around the globe — professional and amateur — drop everything and shake their stuff.
San Francisco artist and dancer Beth Fein organized the first dance anywhere event back in 2005 to demonstrate her theory that practicing one's dance moves is just as much of an art form as a formal performance. In the ensuing decade, Fein has amended her goals to include building a community around the event as well as getting everybody comfortable with the notion of cutting a rug whenever you want.
To quote '80s band Men Without Hats, "You can dance if you want to." But if you'd rather not, there are several events planned for those who prefer to watch and appreciate.
Here in the Bay Area, the types of performances scheduled for today range from choreographed flash mobs to improvised solo pieces. Some will be accompanied with live music, others will be propelled by the soundtracks in the heads of the performers. But one thing is consistent: all the events are free.
The most notable trait of dance anywhere is the wide range of skill sets amongst the performers. Take for example this year, where on one end of the spectrum you have artists such as Bay Area legend Anna Halprin, founder of the influential San Francisco Dancer's Workshop back in 1955 and choreographer of 150 full-length pieces, performing at the Woodlands Market in Kentfield.
And then there is a group of doulas-in-training at San Francisco General Hospital, who have put out a call for "anyone who wants to join us" to take part in the fun.
---
A Map of Selected Dance Anywhere Events
Below is a selective map of Friday's performances of note, curated in part with Fein. Click on the music notes to learn more about the events and to see where else you can join in the fun.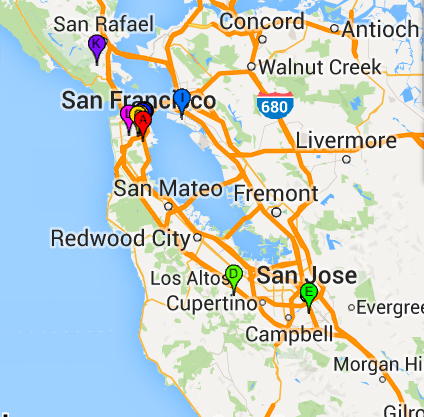 Bay Area Dance Anywhere Events
On Friday, March 28 at noon, artists all across the Bay Area will be spontaneously breaking out in dance as part of Dance Anywhere, a worldwide event promoting such forms of expression. With help from Dance Anywhere's organizer Beth Fein, KQED has created this map showing where Bay Area residents can see dance performances for free this Friday. Click on the music notes to learn where these performances are happening and more about the artists involved.