Bay Area Treated to the Beauty of Dancing as Performers Take Initiative and 'Dance Anywhere
®

'

By Kevin L. Jones | Mar 28, 2014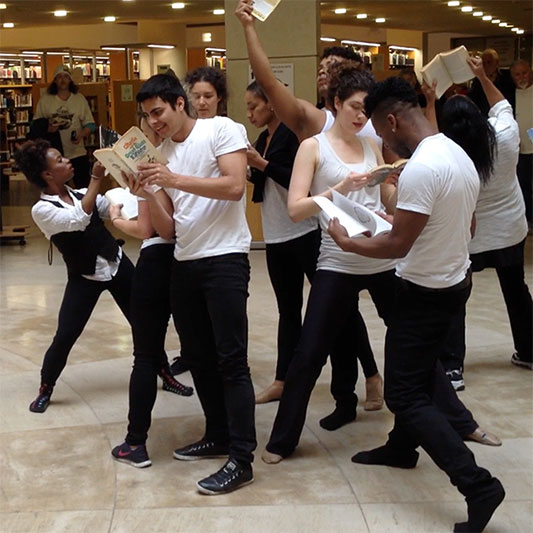 Anne Bluethenthal and Dancers performing at the San Francisco Public Library's main branch as part
Dance moves were busted out across the Bay Area Friday afternoon as dozens of local performers took part in the tenth annual dance anywhere®, a simultaneous public dance performance that has participants as far away as Rome and Paris. Though the event is supposed to inspire anybody and everybody to shake their stuff anywhere they happen to be, many professional dancers and dance enthusiasts use the opportunity to exhibit their passions to the public at large. For example, in the rotunda of the main branch of the San Francisco Public Library, Anne Bluethenthal and a group of about a dozen dancers from her company performed a choreographed piece centered on literature. Several onlookers leaned along the railings above as the performers mixed live singing with modern dance into a compelling example of performance art.
Across the bay, about 50 diners at the Oakland-based Korean-Fusion restaurant FuseBOX were treated to a solo piece from hearing-impaired performer Antoine Hunter. Renowned for his work in modern jazz dance, Hunter, a West Oakland native, drew quite the applause for a piece that incorporated the restaurant setting, including the eatery's outdoor patio.
But not all the performances were from professionals, as dance anywhere is intended to inspire artists of all skill sets. For example, students from the University of San Francisco's Flash Mobs class collaborated with members of the intergenerational dance company Dance Generators to perform on a staircase near Turk Street at the school's Lone Mountain Campus.
Several blocks away, around the corner from the offices of KQED, a group of doulas and doula trainees from San Francisco General Hospital's volunteer doula program let their inhibitions go and let loose to a soundtrack of Pharrell's "Happy" and other modern dance hits.
dance anywhere® was created by San Francisco artist  Beth Fein and first held in 2005. For more information on the event and media from past events, visit danceanywhere.org