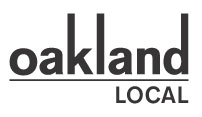 Barbara (who happens to be a friend of mine) and the kids were taking part in a worldwide public-art performance in which people from all around the globe, of all ages and artistic capabilities, took the time to stop — and simply dance. If you aren't yet convinced this is an absolutely delightful concept, check out danceanywhere.org and try not to smile as you see folks from all over the world getting their groove on.
Last week people danced in 432 cities in 50 countries on 7 continents. Here in Oakland, there were dance events at City Hall, Sibley Regional Park, the Oakland Museum of California, and West Oakland restaurant FuseBOX. We all were engaged, as the Dance Anywhere® website puts it, in "dissolving the line that often separates art and dance in our daily lives."
Here at Fairyland we chose three songs guaranteed to get kids going with "Limbo Rock," the Village People's "YMCA," and Taio Cruz's "Dynamite." Shana Barchas, our education specialist, knows how to encourage interactivity and fun, and even our board member Ron Zeno joined in. Barbara and I couldn't resist, either. "It was just the best!" said Kaplan. "Kids are open-hearted, and they haven't learned to shut down their inner creative selves."
Coincidentally, last month the International Journal of Education and the Arts published "Engaging Families in Dance: An Investigation of Moving Parents and Children Together," which summarized a three-year study conducted by dance educators at UC Santa Cruz and Berkeley-based Luna Dance. The researchers noted "the power of moving together in time and space to help people build and rebuild personal relationships."
I love that the study included these lines from poet Robert Frost:
We dance around in a ring and suppose
But the Secret sits in the middle and knows
According to the researchers, "the secret" is that empathetic, engaging, respectful and caring relationships are the key to a successful life, and dance is a powerful vehicle for growing and nurturing these relationships.
When we posted photos of our danceathon on our Facebook page, parent Marijoy-Bombom commented: "My daughter and I were there with her entire kindergarten class! They had so much fun today! When we got back to Sequoia Elementary they all agreed the dance party was the best part [of their field trip]."
Children's Fairyland has already committed to participating in next year's Dance Anywhere® event. When Dance Anywhere® asks, "What if the world stopped to dance?" we answer, "It would be a better place."
And based on our experience last week, a lot more fun, too.