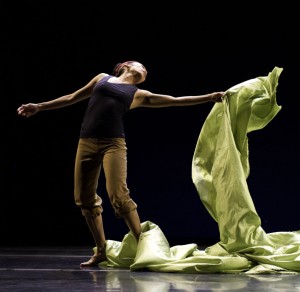 Frances Sedayao / photo: Pak Han
This March seems to be boasting a lot of exciting new dance performances coming out of the Bay Area. This week, we had a chance to catch up with Sue Li Jue of "Facing East Dance & Music", whose upcoming show this.placed starts its run of performances this coming Friday.
Li Jue, along with choreographer Nina Haft, created a performance piece dedicated to the body and how it remembers. Based on the flash fiction of Britta Austin and the struggles of individuals (particularly Chinese immigrants) find when living and working far from home. Sue Li Jue talked to us a bit about her experience, her inspirations, and her motivations behind this.placed.
Your newest performance this.placed is centered around the body and how it remembers.  Can you give us a little bit of background information as to how you are able to represent these ideas through dance and mutli-media?
My approach is different for each of the four pieces I am showing in this.placed. I am always interested in exploring the human story from an emotional perspective and often, an Asian American perspective. I know that the body is a receptacle for our collected lifetime of memories [and] I have focused on a few ideas for this show that I wanted to explore.

In "Remember Me?" a men's duet, movement comes from one figure's memory of what is was like to move unencumbered by pain and the body breaking down. The main figure is haunted by his former self, who moves freely and begs of him to remember that former, free self. In the meantime, the main figure struggles to move, is in denial of his former self.

In other works on the program such as "Not What She Seams" and "Half the Sky", I approach the feminine need to band together and find solace in one another, reinforcing their sense of place and home and family. The security of knowing deeply within yourself, where you belong, and allowing your movement to flow freely through you.
What inspired you to create this piece now that you are finished with the choreography and look at it as whole?
Nina and I spent quite a bit of time talking about and distilling down the focus of this work. My focus is on the human emotional story through dance, and her interest in geography, root systems and their relationship to the body seemed like the seedling that sprouted into this.placed.  It was fairly organic as we were veering toward this type of investigation on our own paths anyway. Nina's work is inspired by Britta Austin's flash fiction and the writings that she selected all give the reader a very strong physical reaction. You really feel the words as the dancers dance.

For me, it is just the opposite, actually. There is no solid format or formula that these dances sprung from. I posed questions to myself such as: what would it feel like to not have control over your own body? The frustration, anxiety, sadness, that came from trying to feel this is where the movement vocabulary came from in several of my works.
If you had to break down this.placed, what would you say was your over-arching theme for this performance?
Themes? The organic nature of "us". That our physical bodies hold so much and are so intelligent. The body "language" is vast and it speaks and remembers things for us that cannot be verbalized. The set design, the music, the costumes, and the video projections all come together, hopefully in an intimate way that the audience will be drawn into and be able to relate to.
As a choreographer are you more hands on in your instruction or do you allow your dancers room for their own expression/style? Is it harder to work behind the scenes than it is to be on stage?
I do both. Usually I begin by teaching movement material generated by my own ideas and body preferences, teach it to the dancers, and then direct them in expanding it, stretching it, reassembling it in their own way to suit their own bodies and movement preferences. I usually get an array of final phrases that we share and continue to explore, until I find and distill down the most interesting and informative pieces. And we craft a lot of dance together utilizing my direction and design eye, and their intuitive abilities to assist me with transitions and variations. I give them a generous amount of space and time to express their own ideas on a particular theme, but get to edit and piece it all together!

I just said this the other day, "I miss the days when I used to just dance and perform". I sort of mean that and sort of don't. It is really a different experience being a choreographer and producer. It is really like birthing a baby–lots of care and attention to detail, tons of work, and then the baby is born and you are so proud to have accomplished something really amazing. I enjoy where I am in this journey that is ever evolving. I only miss the stage sometimes now. I love working with my dancers and I love collaborating with anyone who also loves collaborating.
How many performers are being utilized for this performance? Do they each take on a specific theme or role in the performance?
I have 7 dancers, Nina has 9. We share one dancer, Frances Sedayao–who has danced with both of us for many years. Nina is also working with her CSU East Bay students for one piece, so we have 24 dancers total in the show.
You have contributed to dance anywhere® in the past–I was wondering if you could tell me a little about how you participated before and if you are planning to participate again?
I have participated in dance anywhere® three or four times I believe, and enjoyed it each time. Once we were returning from a tour in Ohio, and had planned to dance on the airplane from Chicago to SF. We were all set to do it, but the take off was delayed so when the time hit and everyone was supposed to dance at the same time, we found ourselves tipped backward on the plane for take off! We were strapped in and climbing with no way to get up, so we "danced" with our arms only, from our seats. I am sure people thought we were loony!!

Facing East has also performed outside the Asian Art Museum on the front steps. Lots of people passing by during rehearsals which was a load of fun, and we had excellent turnout for the show itself. I usually make something quickly for this event, sometimes mixing in my CAL dance students with my company members. And, I have twice taken that quickly constructed piece and decided to really work on it and both have ended up in my regular season of work. So, dance anywhere® was an accidental springboard for me! 
I hope to participate again. I hope to this year actually, but until this.placed is over, I do not have another moment to think about it yet. Ask me again March 5.
The show, this.placed, takes place at the ODC Theatre, located at 3153 17th Street, San Francisco, California 94110. The show begins this Friday, March 2nd at 8pm and lasts through Sunday. For scheduling and ticket information please visit odcdance.org/performance.