One of the earliest ideas of dance anywhere® was to change perspectives through a creative moment where none of our differences mattered… imagining that if everyone stopped for a moment in time to dance…maybe we could shift some thinking to be resourceful and open to different ideas.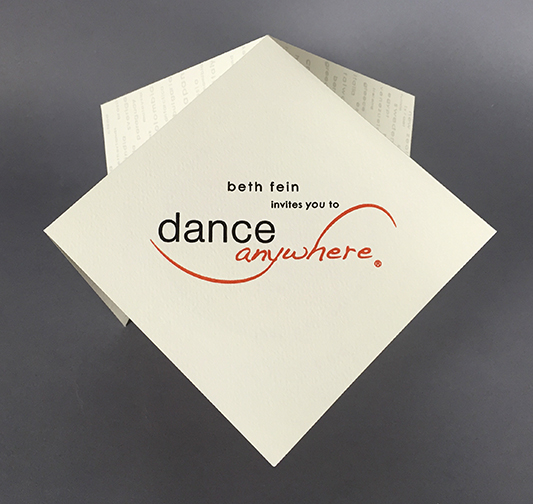 letter press invitation to dance anywhere® created by beth fein
There are no prerequisites to participate in this public art performance and it is totally free.
Since 2005, thousands of people on 7 continents, 66 countries and 714 cities from all background and abilities have stopped and danced with the world for dance anywhere®.
Now with the public discourse so charged, discordant, obstructive, frightened and vitriolic…
 not only am I asking
"what if the world stopped to dance?"
But also:
"Can we find any common ground?"
 I have created a numbered edition letterpress invitation to dance anywhere® that I am sending to what I see as political opposites:
President Obama  –  Mitch McConnell
 Pope Francis – Donald Trump
Michelle Obama – Fox News
Please send me your suggestions of others to invite.
Can art change the public discourse?
Let's rock the world on March 18th and find out!
twitter: bethfein@danceanywhere
numbered edition letter press printed by beth fein, cianna valley and al hugon with assistance from nicole gervacio
printed at kala art institute