Alyce Finwall, of Alyce Finwall Dance Theater, based out of the San Francisco Bay Area, has lately been focusing much of her energy on her current choreographed piece, "Angel", The show was recently performed at Mills College in Oakland and is up and coming at the Garage Theater in San Francisco.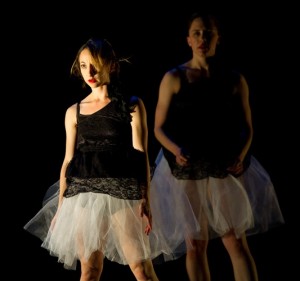 photo: © Kurt Loeffler / Loefflerphoto.com
"Angel" had been hailed as a provocative, sensual, and fluid performance full of sexual energy, aggression, and power. The performance evokes feelings of inadequacy and physical limitations, searing with desire and anguish while backed up with the music of Biosphere, Carson Whitely, The Beach Boys, and Joy Division.
Dance Anywhere recently had the opportunity to catch up with Alyce, who was kind enough to answer some questions about her upcoming performance and the approaches she takes behind the scenes and in the spotlight:
With sexuality and aggression being two of the major themes in this performance, how did you come up with "Angel" as the title of the piece?
I have two young daughters, ages 2 and 4, so much of my work has intertwined with this new reality of being a mother, my experiences with them, and how my life has changed in so many ways. "Angel" has become part of a trilogy of dances I've created over the last two and a half years, all having to do with identity, sexuality, aggression, motherhood, life and death. "Angel" is a subversive title in that it is not necessarily a sweet and airy piece as one might imagine.
How do you achieve the 'look' of invoking these emotions through your dancers. How is the stage set and how do you use costume as a way of underscoring these elements?
I call them [my performances] my "black ballets" because they all deal with darker themes and are costumed in black. These big themes permeate my existence in a very potent way now, being a mother is like peeling back a layer of reality that used to lay somewhere in the background…the choreography inhabits a dark room where two women exist.
Who are these women to you? Have you defined them tangibly or are they just channeling women and femaleness in general?
They may be the same woman (the id and the ego, perhaps), or the idea of a woman or a girl. They struggle against each other and they experience pain and pleasure and exploration and release. I see my own two girls growing up into these inquisitive, smart, sassy, yet hyper-sexual beings and it makes me proud and scared at the same time.
What would you say has been your overall inspiration for this performance?
As I said, the inspiration has come from my experiences as a mother and this whole new, wonderful, mysterious, and somewhat frightening world I find myself in. It was a real challenge for me choreographically to work on a longer piece such as this with just two dancers. My work is pretty structured, technically speaking. I use the language of dance (ballet, modern, contemporary) because that is mostly how I have been trained, but I also trained in mime and some acting through the company Ballet of Dolls in Minneapolis. The work I did with that company really ran the gamut of what was expected of dancers on stage. From full-on dancing en pointe to miming to being barefoot and half-naked in a big sandpit on stage or being naked all together! I learned so much from that experience that now when I choreograph, I approach my work as both a choreographer and a director.

It's kind of amazing—when I watch "Angel", I forget that I'm only watching two women—[the dancers] Julia Hollas and Vivian Aragon, bring such depth to their dancing and performance that, to me, it transcends time. I hope that we are communicating something beautiful, whether it's dark, surreal, choreographic, technical, or not. I want the dance to transcend.
"Angel" seems to have a particular social and cultural commentary throughout its performance. Were there particular themes you used to create this 'voice' so to speak?
"Angel" is about women and girls' sexuality, aggression, identity, and transcendence. These themes ebb and flow as I continue to discover the piece. It's also a piece that is just about a room. The works of Charlotte Perkins Gilman's, "The Yellow Wallpaper", and Virginia Woolf's, "A Room of One's Own", played an instrumental role in informing this piece as well. There are many references in this work to those two pieces of literature.
Lastly, we heard that you are going to be participating in dance anywhere® again this year and we wanted to know what you had planned and if you could also fill us in on how you participated in the past?
Yes I am participating this year! We will be dancing at 343 Sansome Rooftop Deck. It's a public park right on top of a skyscraper downtown. It also happens to be the same building where my husband works.

The first year I participated was at the Berkeley Art Museum, a representative from the Mayor's office was there and declared the day, "Dance Anywhere Day" in Berkeley. I had just moved to San Francisco from New York, so I thought this was pretty cool. Last year, we danced at the Ferry Building. That was an interesting experience because we were supposed to dance outside across the street, but it was raining so hard that we had to go inside. The Ferry Building security didn't understand what we were doing and tried kicking us out numerous times, but my dancers kept moving and people stopped to watch. It was really beautiful. Even my daughters started dancing with the professionals. The security finally gave up and told us to "wrap it up" ASAP. We lingered and danced for quite a while though!
"Angel" which will be showing February 17th and 18th at the Garage Theater in San Francisco.
For tickets and scheduling information please visit: http://www.brownpapertickets.com/event/214316_